WELCOME TO SOLID ROCK LLAMAS
We are Darrell and Merlene Anderson and we have spent the past years building a solid foundation for our llama herd, and we are anxious to share them with you. Solid Rock Llamas have been selected on structural correctness, style, presence and strength of their pedigree. We invite you to look through our web site to learn more about our llamas as well as our March Llama Madness Show & Sale, and Merlene's Legacy Pedigree promotion. 

We maintain a small herd of roughly 15 breeding females on our acreage near West Lafayette, Indiana. Nearly every llama in our herd has achieved Grand Champion status at one of the major llama shows and our sires have been carefully selected from elite breeding programs. The results have been exciting and we encourage you to look at our herd sires, breeding females, crias and our show ring accomplishments.
Legacy Pedigrees by Merlene
Be sure to check out the beautiful and informative pictorial legacy pedigrees that Merlene has done for many of the breeders – big and small - in the country. All you have to do is provide us with your favorite llama, including his or her registration number. If you have good photos of sire and dam you may also include them. Merlene will research the various sources to find the best photos of all of the animals in a four-generation pedigree. She then designs a special graphic background and you have a special document you can frame, give away as gifts or use in your marketing displays.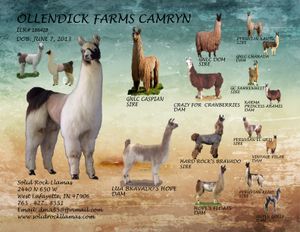 We Count Because You Count
You are visitor number: 9429